Sake Splash: Lucky Brew Series
Are you feeling lucky?
---
Welcome back to Sake Splash with Eda!
I think the Kyoto beer from the last article might have changed me into a beer person… So, this week, I'm bringing you some more of that ji-beer (地ビール) goodness, also known as craft beer from Japan! This time we're looking at Kizakura Brewery's Lucky Brew series. If you're unfamiliar with beer or would like to know more about the brewery, I highly recommend you take a quick glance at the Kyoto beer article. It will give you the rundown of some beer basics (like, what the heck are hops?) to get you started. I definitely need some more beer and luck in my life, so let's get cracking!
These umami type brews go through a gentle filtration process to maximize the amount of flavor in each beer. Lucky Brew is born from several different encounters with luck. The luck of being produced using Kyoto's famous water (the same water Kizakura uses to brew sake), the luck of being made with top-notch ingredients, and the luck of being brewed by skilled hands are all fortuitous moments that are bottled into a Lucky Brew. Kizakura believes that this beer will not only find love and enjoyment from beer fans alike but also those who make beer themselves. According to Kizakura Brewery, there has never been this type of beer before. The brewery hopes to deliver a feeling of great fortune and prosperity in each sip you take. So, whenever you need a drinking partner or if you're feeling down on your luck, pick yourself up a Lucky Brew.

There are three types of Lucky Brew currently available from Mutual Trading Company: Lucky Cat, Lucky Dog, and Lucky Chicken. At the top of the label is the Lucky Brew logo; here's to hoping you hit the mark just like they did with the arrow going through the letter C. Following the logo, the tagline of this beer series is written in a small, clean, italicized font, "The Lucky brew, which brings always Good Luck as a Partner." The big lettering on the front is jaunty and reminds me of the fun high jinks that can ensue during poker night. The little bow under this big lettering makes me feel like the lucky animals are wearing dapper outfits as they keep you company. Not to mention, the chubby faces of the animals on each beer are so cute! The best part about Kizakura beer is the convenient pull tab tops instead of the traditional bottle cap. This makes it a lot easier to drink whenever and where ever you are! No need to stop the fun to look for a bottle opener. Speaking of opening up bottles…
I'm getting pretty thirsty talking about all this beer, so like always, I'll pour out some more details as we taste each one. If you would like to taste with me, you can find these beer at most Tokyo Central, H Mart, Marukai, Nijiya, and possibly some of your local Japanese restaurants! If you ask often enough, your restaurants might start to get the hint 😉
The Lucky Cat beckons us with his wide eyes and mischievous expression. Mesmerized, I just had to pop open the Lucky Cat first! This Lucky Brew is a white ale made with animated yuzu and sansho (Japanese peppercorn) additives and a Yamadanishiki rice adjunct.
The resulting beer has a mild fresh aroma with notes of gentle yuzu citrus, apricot, modest green sansho, jasmine, and gardenias. The color is an elegant pale gold, about an SRM of 3 or 4. The beer is slightly hazy, not too surprising for a white ale, but I didn't expect to see bits of yuzu peel floating around in my glass! Personally, I like that they kept the peels in as it adds texture both physically and visually, giving you a more exciting beer experience. The use of Yamadanishiki rice creates a delightfully light-bodied white ale that is easy to drink! This ji-beer is accented by a faint bitterness, elegantly balanced by a soft and rounded yet crisp mouthfeel. The finish is clean accompanied by hints of yuzu and flowery sansho flavors. The carbonation is gentle but plentiful enough to create a refreshing sensation. In comparison to the Kyoto White Yuzu Ale, Lucky Cat is more expressive on the nose, hazier with chunks of yuzu peel, warmer in color, and the main flavor difference would be the use of sansho instead of coriander.
Lucky Cat is a great partner to lighter fare with sweet, bitter, and or light umami flavors. I would love to pair this beer with grilled rice balls, unagi, arugula, grapefruit, seared scallops, light cheeses, and rose cream pasta. Pairing wise, the Lucky Cat tends to pair better with lighter dishes than the Kyoto White Yuzu Ale.
Looking for a partner in crime? Look no further, this is a sturdy beer that will keep you grounded. This beer will have people calling you a Lucky Dog.
This delightful pale ale style brew is a beautiful bright coppery red, mostly clear with just a slight haze. I would put this at around an SRM of 13. The nose is comprised of light caramel notes, citrus, dried longan, and dark chocolate. On the palate, there is a subtle sweetness alongside the fragrant, rich flavor of barley malt and a moderate bitterness that mellows out on the finish. This pale ale has a plush, creamy texture, and an aftertaste reminiscent of ginseng. Lucky Dog is also made with sake rice as an adjunct, although it isn't stated what strain of rice was used. I believe the qualities of the rice are exhibited in the soft sweetness and texture of this ji-beer. The carbonation is a little stronger than the Lucky Cat, but still a rounded fizz rather than a zippy type.
Lucky Dog is a solid and loyal partner to heavier meat dishes complemented by stone fruit sauces or bright herbs. I can see this pale ale served alongside pork chops with mint and peach (sauce or grilled), roasted beef dishes accented by rosemary or thyme, American or Korean BBQ, and Chicken Paitan or Shoyu ramen. You could even add a splash of this beer when deglazing your pans when working with beef and pork! It will build depth in your sauces.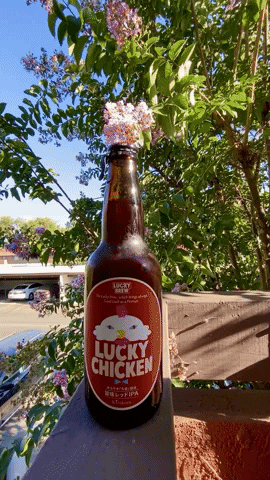 Winner, winner, chicken dinner! Lucky Chicken is a beer that will make you feel like you've hit the jackpot.
This red ale is a slightly hazy but bewitching mahogany reddish-brown, close to an SRM of 18. This beer is flush with juicy tropical passion fruit, pink guava, and ripe pineapple and rich, creamy caramel aromas. This beer gives you a one-two punch by drawing you in with its sweet scent then hits you with a strong but pleasant bitterness and malty goodness when you take a sip. Like Lucky Cat and Lucky Dog, this beer features sake rice (the type was not mentioned) as an adjunct, giving the brew a soft, velvety texture and refreshes you on the finish. Lucky Chicken has a fuller body, flavor, and livelier carbonation profile than the previous brews, giving it a bolder personality.
I wasn't kidding about that chicken dinner, because this red ale goes wonderfully with chicken dishes, heavy/rich dishes, and anything with a rounded sweetness. Try this beer our with yakitori, any kind of fried chicken with sweet sauces, Hawaiian pizza (controversial, I know…), teriyaki burgers using potato buns, and sweet potato fries. Adding a dash of this beer to any tomato-based stews or soups would be delicious as well.
Kizakura has done it again. Three delightful, approachable beers with something special to offer in each. With the Kyoto beer series, you are able to experience traditional Japanese flavors and unique adjuncts, but with the Lucky Brew series, you can find a partner for your everyday life (and meals)! A different beer for the different moods of your life. Feeling light and happy? Open up a Lucky Cat. Need a grounded go-to beer for whatever the mood? Grab your bottle of Lucky Dog. Need something just as deep as the conversation or meal you're having? Lucky Chicken is your new best friend.
Again, these umami type beers are lightly filtered making them a little overcast, but they are full-flavored and have a soft, round, and clean expression to them. This is most likely due to the Kyoto water used and sake rice adjunct in all the beers. Their underlying umami flavor tends to pair well with a lot of foods from drinking snacks to dinner dishes.
So, for those continuing their journey in ji-beer,
give these Lucky Brew a sip, a chug, or a "cheers"!
I would love to hear about your own experience with these beers if you've ever tried them.
Please let me know below in the comments.
Please drink responsibly and we'll see you next time on Sake Splash!
---